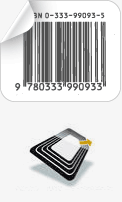 Barcode is a series of parallel, adjacent bars and spaces used to encode the small strings of data.
Barcoding provides the means for automatic data capture of information.
Barcoding when used with EAN.UCC standards, it permits universal and unique identification of goods, services, assets etc.
A bar code reader (Scanner) decodes the bar code using intensity of the light reflected
Symbologies:

Linear Symbologies: EAN 13, UPC 12, ITF 14, EAN 128 / Code 128,Code39,Pharma Code, Postal Code ….
2D Symbologies: PDF417,Datamatrix, Aztec, QR Code ….
Composite Symbologies RSS, RSS Stack